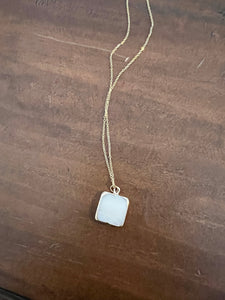 so simple in its style. we love this irregular keshi pearl. square shaped and outlined with gold, it's the perfect everyday necklace! we pair it with a waterproof cable chain. 16" wit ha 2" extender.
- 1 keshi pearl necklace
every piece of jewelry is handcrafted and/or assembled at bubs & sass. we pay a lot of attention to detail and want our customers to be happy! please reach out if we haven't accomplished this. all of our products are nickel and lead free.

thank you for choosing bubs & sass. we are so very grateful.